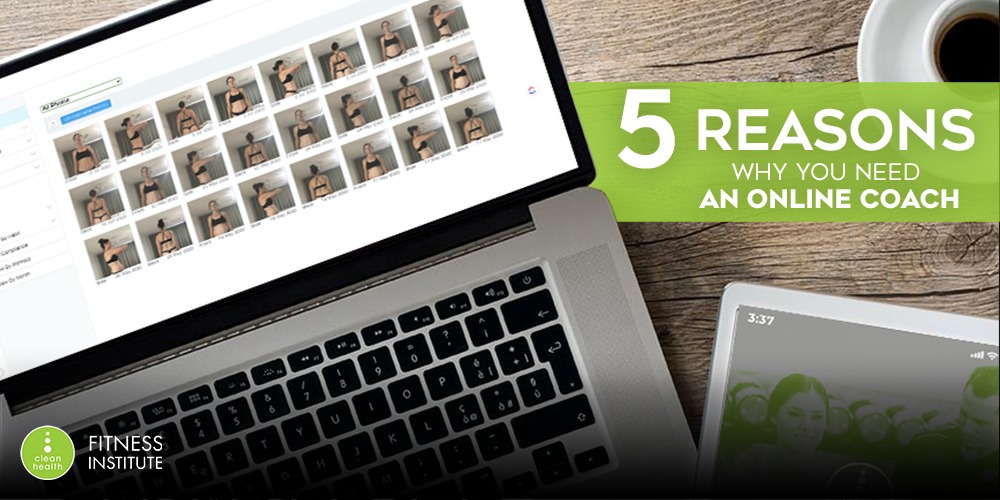 Written by Lauren Killey
Due to the changes which have occurred across the globe in 2020, the fitness industry has seen a mass shift into the online space. This means there is less 'personal trainer' and 'face-to-face' coaching occurring, and more and more clients are seeking online coaches. So, what is the benefit of having an online coach? Here are our top 5 reasons why you should invest in your future health and fitness and find your online coach, today!
1. More time with your coach
Face to face and 1-1 personal training tends to work on a session or hourly basis. You will work with your coach predominantly in the time you see them for your face-to-face sessions, but have little contact outside of this. When you are working with a coach online, you will receive support from your coach daily!
Have questions? You can chat in real-time via instant messaging. Having a bad day? You can jump on a video call and talk it over in your check in. Unsure how to do an exercise? Send a video and your coach can give you feedback! They can also monitor your training, nutrition and lifestyle factors through tracking devices and systems – so you get daily and ongoing coaching to help keep you accountable and on track to reach your goals!

2. Location does not matter
You can coach with anyone, anywhere and anytime! If you have ALWAYS wanted to work with a particular coach but they are interstate, or overseas, you can still work with them online!
Technology allows us to connect in an incredible way. Using apps, instant messaging and video chats will allow you to develop a solid relationship with your coach and receive support and guidance no matter where you are in the world! You can work with some of the best coaches across the globe, offering you a whole world (literally) of opportunity!

3. Your coaching will suit your schedule
Online coaching will provide you with the benefits of a coach, support and guidance around how to train and what to do in the gym – without having to travel to a particular place, or be there at a particular time. You can make your training work around your timetable and schedule – you can rearrange training day to day to suit your needs, and you know you can still record your session and send your coach videos of each exercise for feedback on form and movement.
Our coaches here at Clean Health Fitness Institute use the Clean Health App to monitor their clients training. So, your online coach will ensure you are making every training session count; not just the sessions you are together face to face, as is the case with a typical PT. Your coach will see how much you are lifting and, when syncing your fitness tracker, they will be able to monitor your movement and output each day for more accurate data to tailor your program to you more efficiently.

4. Communication
Having an online coach will also mean more frequent communication. Usually, working with a personal trainer will mean communication, updates and check ins during your session. But, that's it. When you are working with an online coach, you will have systems, such as instant messaging via WhatsApp, which will allow you to communicate in real-time with your coach!
As is the case with our Clean Health coaches, you know you will get feedback within 24 hours of messaging. So, no matter your question or concern, you will be able to get the support you need from your coach. Video calls for check ins will also allow you to build a stronger relationship and rapport with your coach, no matter the distance between you. Given the recent changes globally, many have adapted to online communication due to lock downs and restrictions. Knowing you can communicate with your coach anytime, leads to a better overall coaching experience.

5. Accountability
Surprisingly, online coaching will allow for MORE accountability. As your coach may not get to see you face-to-face, they will have online methods to check in with you on a weekly basis. Any good online coach will have very clear systems, to ensure accountability and progress; our Clean Health coaches use a system involving over 60 steps throughout their client's journey! This includes weekly biofeedback documents which must be filled out and are then discussed in detail via zoom and phone calls, measurements (sometimes sent through daily, for daily feedback and changes), photos and daily goals which are set and tracked via a personalised calendar.
Having a coach who provides you with these clear to-do tasks, and checks them frequently to ensure you are completing them to the best of your ability, will keep you on track and motivated, not just when you are in the gym and training, but in everything you do! From food tracking, to daily weigh ins, to sleep tracking and steps and stress management tasks such as meditation apps or daily journaling, your coach can guide you in your nutrition, training and lifestyle when working with you online, leading to more sustainable and long-term success and results.
Join the revolution today and start coaching ONLINE! We have a team of master coaches who can help you reach your health and fitness goals, whether you are aiming to drop fat, build muscle or just develop your overall health and fitness, find your coach today!