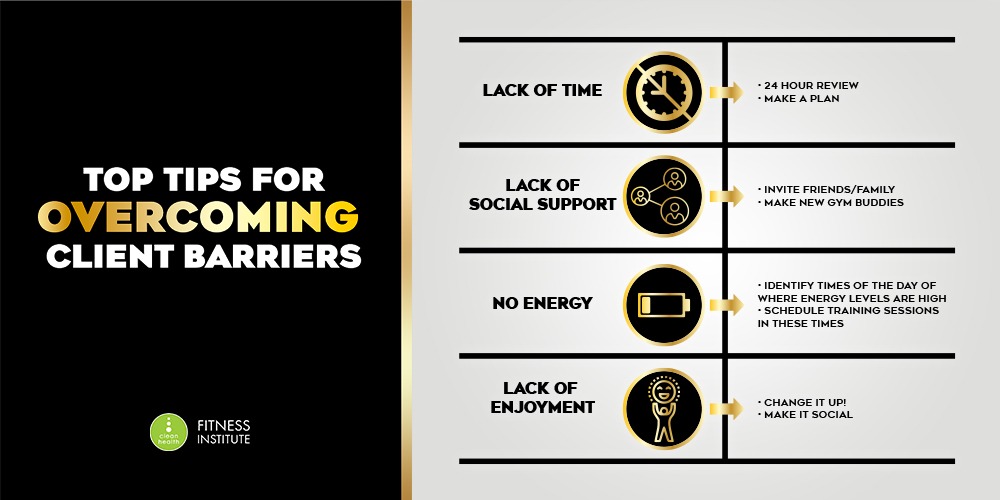 Written by Jade McKee
Starting AND managing to complete a training and nutrition program may be difficult for your client at times. They might start out with the best of intentions, not anticipating any of the potential barriers that may make reaching their goal feel near-impossible at times. 
The National Health Survey, completed by the Australian Bureau of Statistics between 2017 and 2018, found that 55% of adults did not participate in sufficient physical activity. Women were found to be less active than men, and it was found as age increased, so did the level of inactivity.
So, what are some of the barriers that might be stopping your client from participating in activity, and in turn, reaching their goals? And how can YOU help your client to overcome these barriers?
Lack of time
This is potentially one of the biggest, and most common barriers your clients may face. So what are some ways to combat a lack of time?
– Break it up: Remind your client that their activity doesn't need to be done all at once. For example – if they are having trouble reaching their step target, encourage them to get up and walk for 5min every hour, on the hour. They can set alarms throughout the day if they need a reminder! If your client works in a busy office – it might be a lap or two around the room. Would it be possible for them to walk around their office while in meetings on the phone?
– Do a 24 hour review: Ask your client to do a simple time tracking exercise – recording each activity they complete over a full day. Even better – have them complete this over one week day, and one day of the weekend. Then, use this as a guide to help identify up to five 30-60min time slots that could be used for exercise throughout the week. These might be times that your client usually spends sitting on the couch, for example, or watching tv.
– Make a plan: Encourage your client to schedule their training session, their meal prep time, or the time they plan to go for a walk into their diary. Just like any other appointment they might have booked for the day, this will ensure the time has been set aside, and SHOULD be kept free!
– Make exercise a PRIORITY: Once it's scheduled in – don't make excuses, stick to the plan!
Still having trouble fitting it in? Get up EARLIER. The early bird gets the worm.
Lack of social support
– Invite friends or family: Remind your client that they don't have to do it alone. Exercise is always fun when you have someone to share the experience with. Whether is be for their morning walk, a weights session, or a class at the gym – encourage them invite a friend, their partner, or a family member to join them.
– Make new friends: The gym is a great place to meet other like-minded people. Especially in the classes, where there can be a great sense of camaraderie. Sometimes all it takes is a friendly smile, and a quick hello to start a new friendship that lasts a lifetime.
No energy
– Have your client identify times of the day when they feel MOST energetic, and encourage them to schedule their exercise around this time.
– If they are exhausted after work – this might mean training before work, to have their training session out of the way before starting the day.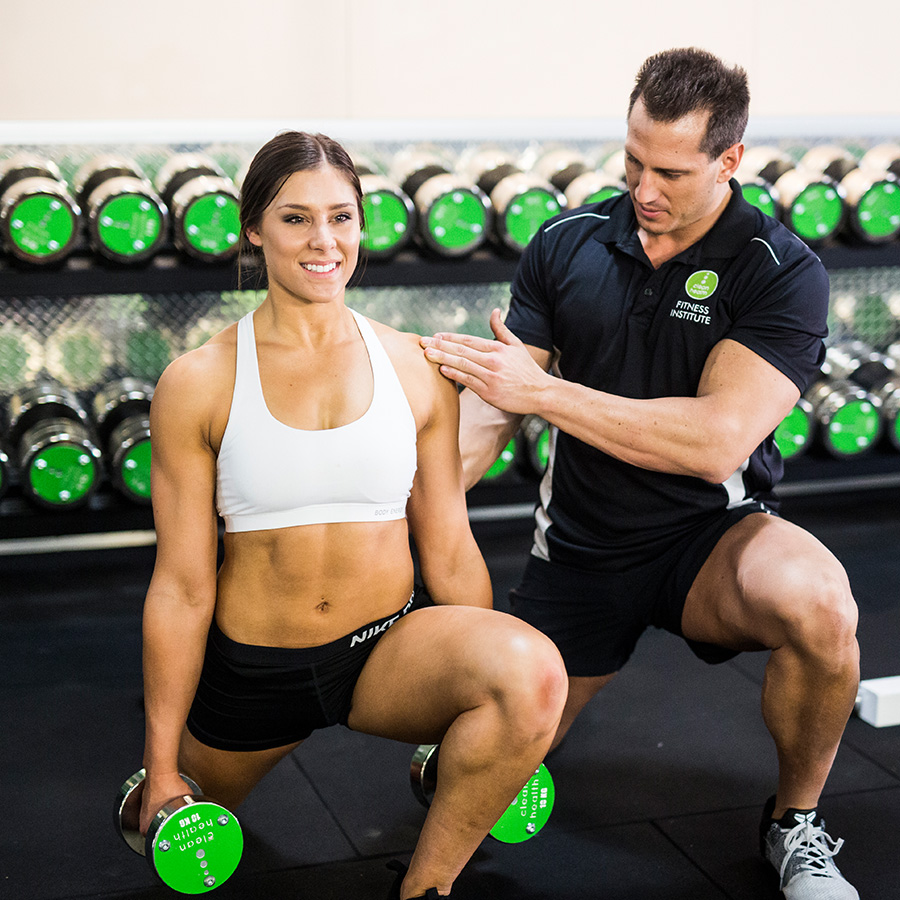 They Don't Enjoy it
– Brainstorm with your client to come up with a few different activities they could complete on a regular basis, that they DO enjoy. If they don't like lifting weights, it might not be the bast place to start with them! It might be as simple as incorporating healthier habits – like walking the dog EVERY day, taking a class at the gym, or playing a game of tennis with a friend.
– Make it a social event: Taking a class at the gym can be a GREAT way to meet new people who may have similar goals, and can make getting into a routine with exercise much more enjoyable. Alternatively – involve a friend or family member so you can both keep each other accountable!
– Change it up: Remind your client they don't have to do the same thing every single day. Encourage them to try different classes and activities until they find something they REALLY enjoy. Now might be the time they were waiting for to give that spin class a go!
These are just a few barriers your clients may come across when trying to reach their goals. Try implementing some of the strategies above to help remove some of these barriers, and to help your clients find success as they learn to make health and fitness a part of their every-day life.
To turn your passion for fitness into a sustainable, long term-career whilst helping to positively change the lives of all those that you come into contact with, click here to enrol into our Master Coach Program!
References:
Australian Institute of Health and Welfare (2020). Insufficient Physical Activity. Accessed 10th November 2020. Retrieved from https://www.aihw.gov.au/reports/risk-factors/insufficient-physical-activity/contents/insufficient-physical-activity
Centers for Disease Control and Prevention. (2020) Overcoming Barriers to Physical Activity. Accessed 10th November 2020. Retrieved from https://www.cdc.gov/physicalactivity/basics/adding-pa/barriers.html
Dorfnner, M. (2015) How to Overcome the Top 5 Fitness Barriers. Accessed 10th November 2020. Retrieved from https://newsnetwork.mayoclinic.org/discussion/how-to-overcome-the-top-5-fitness-barriers/
Fundamentals of Program Design Course. (2020) Clean Health Fitness Institute. Accessed 11th November 2020.