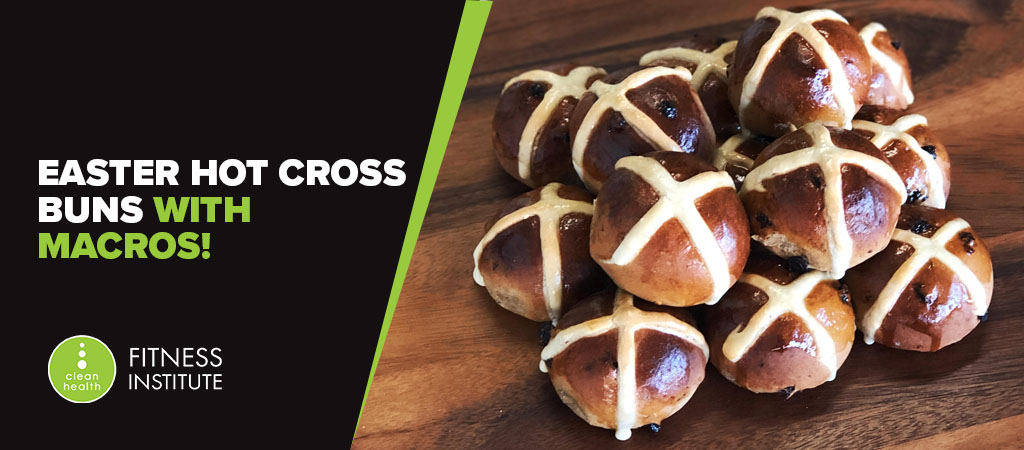 By Clean Health Fitness Institute
This Easter weekend, it is likely that a large proportion of your macros and/or calories will be spent up on gold Lindt bunnies, Ferrerro Rocher chocolates and of course, hot cross buns! This delicious Healthy Hot Cross Buns recipe for homemade has been created by personal chef and WBFF Bikini Diva, Jordan Hartley.
With each bun only taking up 171 calories, there's room for two (or a few) this weekend and you can track them!
Healthy Hot Cross Buns
Macros: P: 6g C:27.7g F:3.7g
Makes 20!
Ingredients:
2 tsp dried instant yeast

500g plain four

2.5 scoops salted caramel protein

90g coconut sugar

350mL milk

60g butter

1 tsp salt

1 tsp cinnamon

1 tsp ground allspice

¼ tsp fresh grated nutmeg

1 large egg

140g currents

250 mL sugar free maple syrup
Crosses
2 Tbsp self-raising flour

2 Tbsp cold water
Method
Sift together protein powder, yeast, flour, sugar, salt and spices to evenly distribute.

In a small saucepan, gently heat the milk over a low temperature and melt the butter into it.

In a separate bowl, beat the egg.

Add the milk and butter mixture to the dry ingredients and mix well. Then, add the egg and currents, mix this together.

Turn out the dough onto a lightly floured surface and knead for 10 minutes or until it feels smooth and is no longer sticky. Place in a lightly oiled bowl, cover with plastic wrap and place in a warm spot to prove for 1 hour or until doubled in size.

Punch down the dough and then separate it into 20 equal portions. If you are skilled with rolling using the palm of your hand roll the balls against the bench in a circle like motion.

Place the buns close together on a lightly greased baking tray. Allow to rise for 30-45 minutes or until doubled in size and very light.

Preheat oven to 200°C. To make the crosses, mix the flour and water thoroughly to form a thick paste. Spoon into a piping bag and pipe the mixture in crosses on top of the buns.

Bake the topped buns for 12–18 minutes.

To make the glaze, reduce the maple syrup in half and brush over buns while hot.
If you are clever or your coach is kind to you, you would have programmed in a 'refeed' or diet break this weekend allowing you to indulge in a few extra calories and enjoy Easter with your family and loved ones. Planning a structured refeed or diet break for your clients is a great way to allow for additional calories and keep them on track with their fat loss results!
In addition to combating metabolic adaptations, refeeds and diet breaks over holiday periods or special occasions are a great way to take a mental break from dieting and relieve some of the social pressures clients face when they are committed to their goals. This is part of the art of coaching that extends beyond regular training and nutritional programs.
Are you looking for a coach that offers you the flexibility and guidance you need? Start a 12 week transformation package with a Clean Health Fitness Institute coach today and learn how to make healthier choices and form habits to achieve fat loss that last! CONTACT US now about getting started.
Want to learn more about programming in refeeds and diet breaks for your clients to combat metabolic adaptations? Enroll now for our next student intake of the Performance Nutrition Coaching Certification. This course is one of the most sought after nutrition courses in the world!
Happy Easter!
Yours in health,
Clean Health Fitness Institute