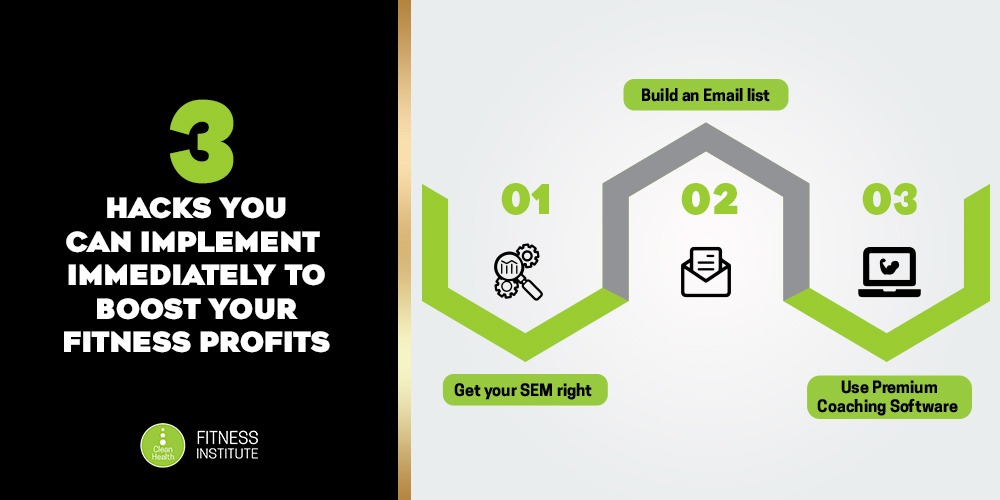 Written by Clean Health Master Coach & Assessor Manny Laris
Are you a fitness professional or nutrition coach who is tired of trading hours for dollars? There's a limit to your sanity, right? It's time to buy back your own time! Let's look at how you can change all that.
3 Ways to Boost Your Fitness Business Profits
1. Get your SEM right
SEM stands for Search Engine Marketing, and involves running paid advertisements on major search engines such as Google or Bing. If you are a personal trainer or gym owner with a website, you are simply leaving money on the table by not running paid ads with the major search engines.
The quality of prospects you attract will be higher due to the commercial intent keywords that are entered into the search engines. For example, someone who is actively searching for 'personal trainer near me' has intentions of hiring the services of a personal trainer! It's basic fact. So, make sure you include the right keywords in your SEM campaigns.
Your costs per click might be a little higher than Facebook but at least you will be generating higher quality leads that are actively looking for your fitness services. You can also set up ads that can be run all year round with minimal changes and maintenance. That's time and money saved!
Still not confident? Don't worry, you can outsource this if you don't have time or you are not that keen to get involved in this space.
Getting your SEM right is fundamental to attracting quality leads to your personal training business.
2. Use Effective Email Marketing Strategies
This is one of my favourite, and non-negotiable, digital marketing strategies. Emails are your database! Remember you don't own Facebook, but you can own your email database list (sure people can unsubscribe but if they don't it's your list to use). You can use email marking to create automatic follow-up sequences and develop relationships with prospective clients and customers.
Make sure that you have an email marketing campaign kicking in from the moment a prospect submits a form on your website. Initially, the goal of the campaign is to build trust and credibility to compel them to connect or make an appointment with you.
It takes time to build trust with prospects, so don't despair if they don't spend money initially. Work out what you are willing to give away for free and how to ensure they stay connected with you. They will generally then not mind the occasional promotion. If they do, they will likely unsubscribe, which is fine! They were likely not the right prospect for you anyway. Learn and move on!
Email marketing is a also a great way to keep current fitness clients engaged and increase adherence. Establish automated email sequencing so that you save yourself lots of time!
Simple email marketing tips:
Ensure that you have email sequences set up to save time.
Establish a 'refer a friend' option, perhaps even with incentives.
Consider when you can include internal promotions to upsell your services easily online.
3. Use the Best Coaching Software
If you want to be the best you need to be efficient. If you are still handwriting caloric and macro calculations and using excel spread sheets and word documents then you need to get with the times!
Save yourself time and frustration and modernize your systems. You won't have the time to use spreadsheets and word documents if you are scaling up successfully. Customization of meal plans is a timely process – it needs super attention to detail! You need to leverage technology for this.
This huge need in the market is what drove us to partner with the iNutrition Pro (iNP) software for our clients.
It allows you to produce quick, easy, fully customized professional meal plans in minutes. I'm not kidding! It provides flexibility to help you design your client's nutrition plans.
iNP will save you time and money by:
Allowing you to quickly customize meal plans for clients 
Ensure clients are tracking well, thereby maximizing their results and your profits (good news travels fast, right?) 
Stopping you from using boring old spreadsheets that no client wants to read.  
Which of these methods are currently missing in your fitness business? Please feel free to let us know!