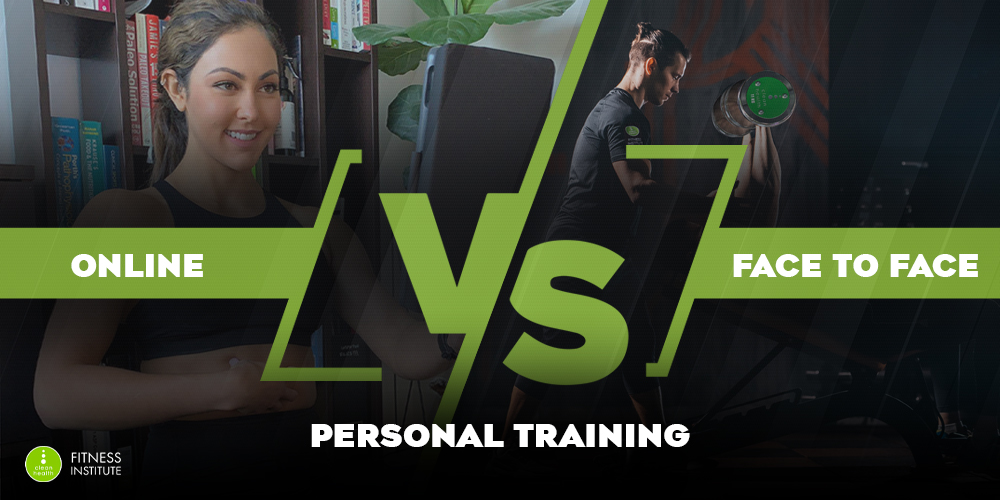 Written by Lauren Irvine
There's no one size fits all when it comes to being a personal trainer these days. With the help of technology, it's never been easier to keep in touch with your clients and hold them accountable – even if you're not seeing them every day in the gym. However, some people simply thrive off the hard steel gym environment! If you're wondering what coaching method is right for you (face to face, online, or a combination of both!), we've broken down the benefits and downfalls of each so you can make the best decision for your coaching business.

Online
A more modern approach to fitness training, online coaching has exploded in recent years due the ease of access and flexibility for clients to train wherever – and whenever – it suits them.
PROS:
Accessibility: Thanks to technology, you can deliver everything from training programs to nutrition plans directly to your clients' smartphones, meaning you can coach clients anywhere in the world.
Scalable profit: Because you aren't paying rent and your client base is not limited to a gym's member pool, you have the ability to scale and profit your business. You can sell pre-designed programs for a specific goal, create educational e-books for your clients, and upsell with add ons to your online services.
Flexible hours: Because you no longer have to be on the gym floor at peak times to train and attract clients, you can create a work-life balance that suits you. Additionally, you can put in place templates and systems to easily onboard clients, efficiently design programs, and give your clients a professional coaching experience.
CONS:
Not in real-time: You can't adjust your clients' technique to prevent injury or progress them if an exercise is too easy.
Less accountability: Without the commitment of showing up to the gym at an agreed-upon time, clients have to rely on internal motivation to show up for their sessions.
Equipment access: Clients may not have access to certain equipment used in their program and you aren't able to give them an instant alternative.

Face to Face
The original personal training experience started in the gym, and many coaches still work with this model today. If you're a people person and love being in a gym environment, then face to face coaching could be a great option.
PROS:
Real-time connection: You're there to guide your clients through their workouts and push them when they feel like giving up. You're able to give instant feedback and adjustments to their technique while encouraging them to do their best.
Easier to get leads: If you're working in a big commercial gym with hundreds (or thousands!) of members, there are multiple potential clients passing you by on a daily basis. While not every member may understand the benefits of personal training, they're usually there for a reason. If you can place yourself as the invaluable link between them and their goal, then you've got a prospective client.
Learn from others: If you're working in a gym with other highly successful coaches, then you can learn from them and what they do well. Some coaches may even be willing to mentor you and pass on their knowledge.
CONS:
Long hours: Between personal training sessions, prospecting on the gym floor, and making yourself known to members – face to face coaching can be exhausting. If you're not used to being on your feet all day, let alone waking up at 4 am, doing sessions after the sun's gone down, and completing admin tasks in between, it's easy to get burnt out.
Rental systems: Every gym is different, but most will not let you train your clients there without taking a cut from your profit. Some will take a percentage of each session you conduct while others will have a set rental amount per week (regardless of how many sessions you have). These often come with lock-in contracts which can be hard to get out of.
Timed sessions: To make sure you're turning a decent profit, it's important to stick to the agreed-upon session times with your clients – especially when you are booked back to back. However, if a client arrives late or takes longer than expected to get through exercises in their session, they may not feel they are getting their money's worth.
If you're looking to become a personal trainer but aren't quite sure which coaching method is best for you, our Master Coach Program will teach you everything you need to know to run a successful personal training business – regardless of whether you choose to go down the face to face or online coaching route!
CLICK HERE FOR MORE INFORMATION & TO SPEAK WITH OUR CAREERS ADVISOR!
References
https://www.trainerize.me/articles/in-person-training-online-personal-training/
https://movewell.healthy.ucla.edu/2019/11/14/online-vs-in-person-fitness-training-which-is-right-for-you/