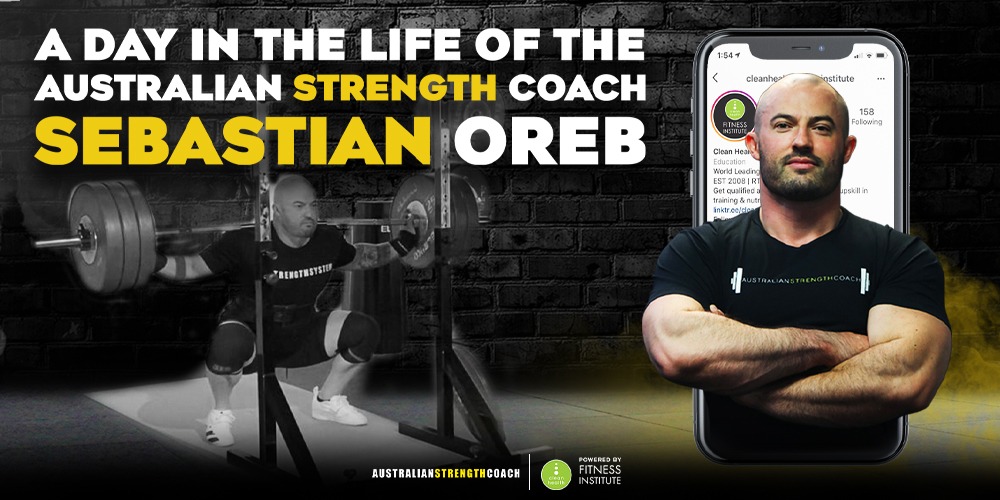 Written by Lauren Irvine
To celebrate the upcoming launch of our Strength System Level 1 Certification, we spent the day with our course author, Sebastian Oreb to find out a little bit more about one of the world's most successful strength coaches. As the Australian Strength Coach, Sebastian has trained some of the world's top athletes with his client list including the world's strongest man Hafþór Júlíus Björnsson, NRL footballers Paul Gallen and Martin Taupau, and WBFF Pro Fitness Model Hattie Boydle.
Outside of his coaching career, Sebastian is a husband, father, and businessman who boasts enthusiasm when it comes to sharing everything he's learned throughout his 20+ years of strength training with other personal trainers.
We asked Sebastian (Bas) to take us through a day in his life, and how he lives and breathes the training methods you will learn in the Strength System International Certification.
7:30 am: Wake up and breakfast
Upon waking, Bas enjoys his first meal of the day which consists of 1 cup of oatmeal porridge, a scoop of whey protein powder with water, and honey. On the side, he has a glass one water with ⅓ teaspoon of salt and a double shot coffee with cream and honey to kick start his day!

9:00 am: Beard trim and second breakfast
After giving his facial hair a quick tidy up, which Bas says he does about every 5 days, he heads back to the kitchen for a protein packed meal of boiled eggs and blueberries paired with a glass of apple juice. Bas says, "It's a very funny combination, but the blueberries wash the eggs down nicely – try it!"
10:30 am: Gym and train
After dropping his daughter at school, Bas heads down to his athlete gym, Base Gym in Sydney, to do a light high bar squat session. In saying that, Bas' light session still consists of 220kg squats! However, to ensure progressive overload, Bas incorporates deload weeks into his strength training programs.
Before training, however, Bas always uses Stuart McGill's "Big 3" warmup to activate his core and glutes before getting under the bar.

12:00 pm: Post-workout meal
Following his training session, Bas refuels with a Bondi Meal Prep meal of steak, broccoli, capsicum, jalapenos and rice.
12:30 pm: Squat and deadlift technique session
While Bas no longer conducts face to face personal training sessions (with all his clients coached online), he offered to take Monica and Lauren from our marketing team through a squat and deadlift technique focused session.
This session was solely focused on technique cues and adjustments to create optimal movement. The methods Bas took the girls through are the foundation for all his clients – and the exact same systems he teaches in Strength System Level 1. The systems he used were able to take Monica's PB squat from 85kg, to 3 x 100kg in just one hour!

2:30 pm: Session debrief
Bas then takes the time to go over his session notes with the girls and explains how to progressively overload their squat and deadlifts over the next 6 weeks, while focusing on their technique.
"For myself and my athletes, technique takes priority over everything else, which means that technique is the highest priority out of everything we will cover in this course. If you are following the absolute worst program in the world, but your technique is excellent and you're following the principle of progressive overload, then you will still get great results – but the same cannot be said for the reverse" – Sebastian Oreb
6:30 pm: Dinner with family
After a busy day, Bas sits down with his family to enjoy a nutrient packed meal of beef mince and rice, loaded with vegetables while he enjoys some quality family time.

7:00 pm: Dessert
After dinner, Bas curbs his sweet tooth with some scones with jam and cream before getting lots of micronutrients in with a big plate of kiwifruit, strawberries and some stone fruit. Delicious!
We were honored to spend the day with Bas, who is not only one of our amazing industry partners, but also a part of the Clean Health family. We hope you enjoyed getting to know Bas!
Want to learn the exact same training methods used by Bas to coach some of the world's top athletes?
Enrol into Strength System International Level 1 Certification today and SAVE!