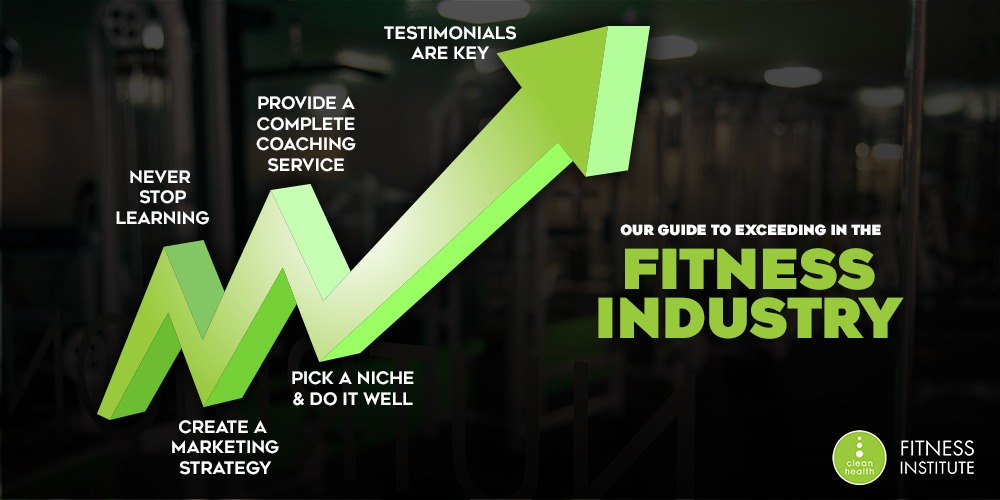 Written by Lauren Irvine
Did you know that the global fitness industry is worth nearly $100 billion? (1) While that may seem like a large number, the industry as a whole is made up of some very successful personal trainers – and some who are not so successful. So, what can you do to ensure you're ahead of the pack? Read on to find out!
Never stop learning
You could be the most motivating and charismatic person there is who finds it easy to convince clients to start training with you, but if you then lack the knowledge to get them results or answer questions they have about nutrition and training, your business will struggle.The most successful coaches in the fitness industry – or any industry for that matter – are the ones who are constantly investing in their own education and knowledge.
This could be in the form of up-skilling via courses, continuous study, reading the latest research, following other successful trainers, working with mentors and much more.If you are registered with a fitness industry association, you will be required to show proof of your continuing education to remain registered as a working professional. This is done to maintain high standards within the industry, which many employers hold with high regard. To find out more about ways you can up-skill in nutrition and training, click here.
Create a marketing strategy
Creating a marketing strategy is often overlooked when it comes to running a successful business in the fitness industry. Whether you are a gym owner or a personal trainer, you need to have a well planned marketing strategy. The end goal of a marketing strategy is to land sales for your business, but it is much more than a sales push. A marketing strategy can create brand awareness, generate leads for your business and boost your online presence.
A marketing strategy in the fitness industry could consist of social media content, paid ads, educational blogs, YouTube videos, free downloadable resources, or even posting mail pamphlets in your local community. No matter what you use in your marketing strategy, they should always be targeted towards your client demographic.
Provide a complete coaching service
In an age of online coaching apps that are a one stop shop for meal plans and workouts for a fraction of the cost of personal training, it's no longer enough to only offer weekly training sessions for your clients and not speak to them until their next session. The three pillars of health and fitness that we educate our students about are: lifestyle, nutrition and training. Note that the order they are in has training as the third pillar – because educating a client on the lifestyle and nutrition changes they can make are key for them to achieve results, as well as optimal, long term health. 
Additionally, the impact of regular exercise and resistance training go far beyond just the aesthetic results, which is why we teach our students to track biofeedback as a whole, to gain an overall understanding of how a client is responding to their program. Remember, you can positively impact your clients' lives so much more when you offer a complete coaching service that takes into account lifestyle and nutrition as well as training. You will also get far better results with a client if you are educating them to change their lifestyle behaviours on a daily basis and not just the hour they spend with you in the gym.
Pick a niche and do it well 
Niching down in the fitness industry is one of the most effective ways to build your authority and scale your business. Once you choose a niche, everything you do from upskilling to content creation should be tailored towards this niche, making it easier for you to work out where to focus your efforts on.If your niche is female fat loss transformations, gain experience coaching as many female clients as possible and upskill in nutritional and program design courses that will help you to achieve amazing results. Post and reshare educational content on social media as well as connect with others in the industry within your niche.
Testimonials are key
A personal trainer's dream is having a referral based business, but one of the biggest challenges new personal trainers face is building up their initial clientele. Often, coaches have the knowledge to get results, but they lack the skills to prospect clients on the gym floor or follow up potential leads. However, once you've built up your initial client base and have gotten them awesome results, you NEED to be getting testimonials for your business!
Testimonials not only help you to establish authority as a coach who gets results, but gives your clients the opportunity to rave about your services and how much they enjoy working with you. Most clients will be more than happy to give you a testimonial or review – you just need to ask!
Thought about a career as a personal trainer? Our Master Coach Program will equip you with the skills and knowledge you need to succeed upon entry into the industry! Click here to learn more.
REFERENCES:
Statista. (2020, August 24). Health club industry global market size 2009-2019. https://www.statista.com/statistics/275035/global-market-size-of-the-health-club-industry/