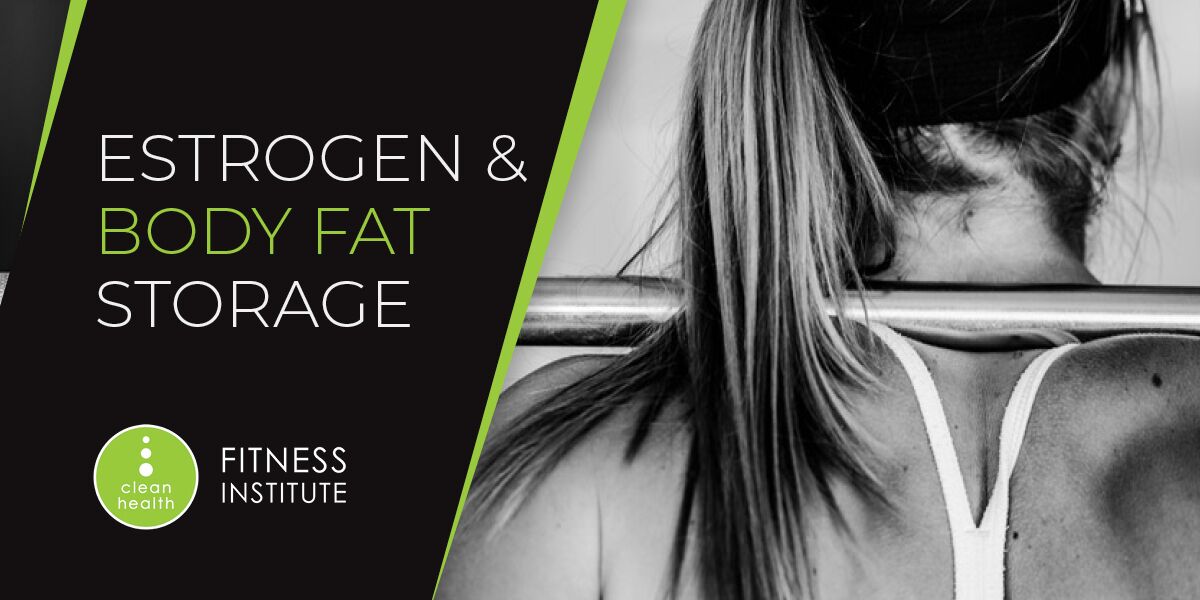 The theory that estrogen determines where you store the most body fat comes from the original work by coach Charles Poliquin. Initially called Biosignature, then Bioprint and the final version being Metabolic Analytics. It was originally developed by comparing blood tests for hormone levels and skin caliper measures of a lot of high level athletes. While science has not confirmed the correlation established by coach Poliquin, a lot of it was corroborated, including the impact of estrogen levels on lower body fat storage.
When carrying higher levels of estrogen, you will tend to store more fat in your lower body. That's why natural female figure, bikini and physique competitors have a harder time getting their lower body as lean as their upper body. And that's why when you look at female athletes that use performance-enhancing substances (PEDs) they showcase much leaner legs. Some of the substances used by these athletes are estrogen modulators.
If you look at older women (after menopause) they also tend to store less fat in their lower body and more around the waist. This is likely due to the drop in estrogen.
Lowering estrogen could help someone lose more fat in their lower body but you must be careful, when estrogen levels are too low, there can be many drawbacks, especially for women. Low estrogen levels in women could lead to weaker bones and also less muscle growth. Lowering estrogen too much will decrease IGF-1 levels and since women have less testosterone than men, IGF-1 is their main anabolic/muscle-building hormone. Additionally, low levels of estrogen could also kill your libido.
Estrogen is known to increase water retention, mostly in the lower body, and while it's only water and not fat, this is unfavourable for physique athletes and most women in general.
One of the mechanisms by which estrogen could make it harder to lose lower body fat is via an increase in the number of alpha-adrenergic receptors. These are the "off switch" when it comes to many "sympathetic actions", including fat mobilization. If you have a lot of these receptors, it becomes harder to mobilize the fat stored in the area when the receptors are.
In summation, estrogen doesn't necessarily equate to increased body fat levels but it can dictate to where you store body fat particularly as a woman. This is particularly true in females and should be taken into consideration when programming and assessing biofeedback and progress.
Learn more about assessing biofeedback and programming periodisation from Christian Thibaudeau in person in May 2019, where he will be touring to Australia for the first time to present his Advanced Program Design Certification & The Hypertrophy Mastery Certification to students in Sydney & Melbourne.
The workshop will cover the Advanced Program Design Certification & The Hypertrophy Mastery Certification as a 4-day course based on the unique Neuro-Typing & Hypertrophy systems of evaluation designed by world leading strength coach and expert Christian Thibaudeau.
This is the one and only chance to learn from the best!
For more information on Christian's seminars in Australia this May, please click the direct links below:
ADVANCED PROGRAM DESIGN: SYDNEY 2nd-3rd May
HYPERTROPHY MASTERY: SYDNEY 4th-5th May
BOTH COURSES SYDNEY: 2nd-5th May
ADVANCED PROGRAM DESIGN: MELBOURNE 9th-10th May
HYPERTROPHY MASTERY: MELBOURNE 11th-12th May
BOTH COURSES MELBOURNE: 9th-12th May
For more information on Christian you can visit his website Thib Army
Yours in health,
Clean Health Fitness Institute