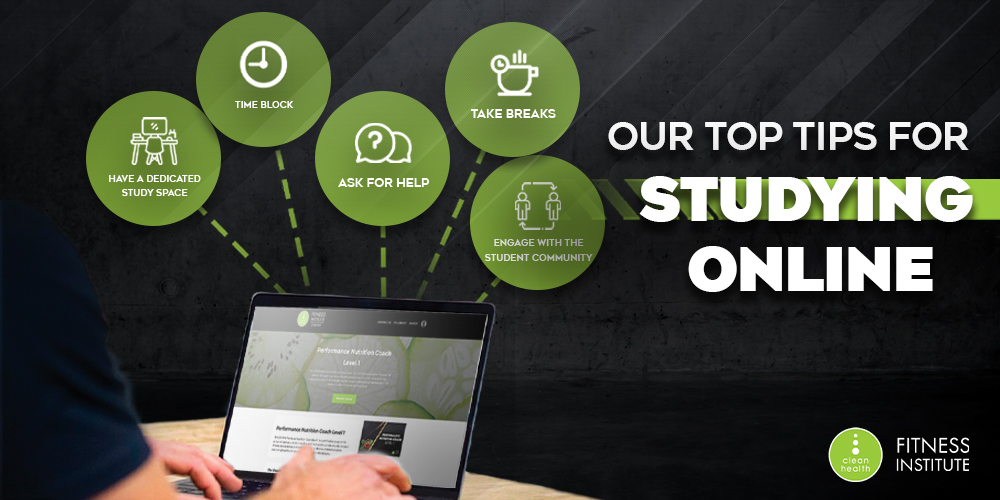 Written by Lauren Irvine
There are so many great reasons to study online, including the flexibility to learn at your own pace and fit in your study hours around work, home and social commitments. Despite the many positives of online learning, some students struggle to remain disciplined during their studies due to the fact they don't have to be in a classroom at a certain time.
We've been pioneering online learning in the fitness industry since 2018, so here are our top tips for studying online for those wanting to up-skill their knowledge!
1. Set up a dedicated study space
More often than not, studying online involves studying at home. Sure, you have the freedom to head down to the local library or take your laptop to the nearest cafe, but the majority of your studies will likely be done in the comfort of your own home. And while lazing on the couch with your laptop on your lap may seem ideal, it's probably not going to make for the most productive workspace.
Likewise, trying to study while in bed or at the kitchen table while eating breakfast will probably only set you up for easy distraction. Your dedicated study space should consist of several things that will set you up for a productive study session: a supportive backed chair, a table clear of distractions and enough natural light to keep you alert.
2. Time block your study
Time blocking is one of the most effective productivity strategies used by busy people around the world to ensure they complete tasks on time and don't get distracted in the process. As an online student, because you don't have set class times, it's important to still add some structure to your schedule if you wish to complete your studies on time. At the start of each week, write down what coursework you want to complete by the end of the week and then schedule into your diary a specific time frame where you are going to work on those tasks, and those tasks only. Because you won't be multitasking and are dedicating the time to one specific task, your productivity will increase and you are likely to complete things faster.
3. Don't be afraid to ask for help
Just because you don't have a teacher at the front of the classroom who openly says, "Does anyone have any questions", doesn't mean you shouldn't, or aren't encouraged to ask questions! Most online learning platforms have a way for you to contact your student mentor or teacher to ask questions on course content and to clarify anything you're not sure of. There's no point sitting at home in silence, struggling to understand what you're learning when there's a team ready and willing to help you! After all, your learning experience should be their No.1 priority.
4. Take short breaks between studying
When you're spending hours on your computer taking in new information and being engaged with your learning experience, it's not uncommon to feel the effects of study fatigue. Having short breaks that are no longer than 15-20 minutes will give you enough time to feel re-energized without losing motivation to get back to the books.
During your break, it's beneficial to get some sort of movement in to get the blood flowing such as a quick lap around the block, some stretching or any form of light movement you find enjoyable!
5. Take time to engage with the student community
While you might not feel like talking to strangers, taking some time to interact with your student community will enable you to connect with other students on the same journey as you. Without being in a classroom, you don't have the automatic interaction with other students so joining your online platform's student community is a great way to find out how others are doing with something you might be struggling with, or get tips and tricks from other students. You never know, you might even make some friends!
If you're interested in learning more about studying online to become a personal trainer, check out our Master Coach Program! You will not only receive your personal training qualifications, but you will also receive 3 ADDITIONAL Clean Health Certifications so you can really kick start your fitness career!
CLICK HERE FOR MORE INFORMATION & TO SPEAK WITH OUR CAREERS ADVISOR!