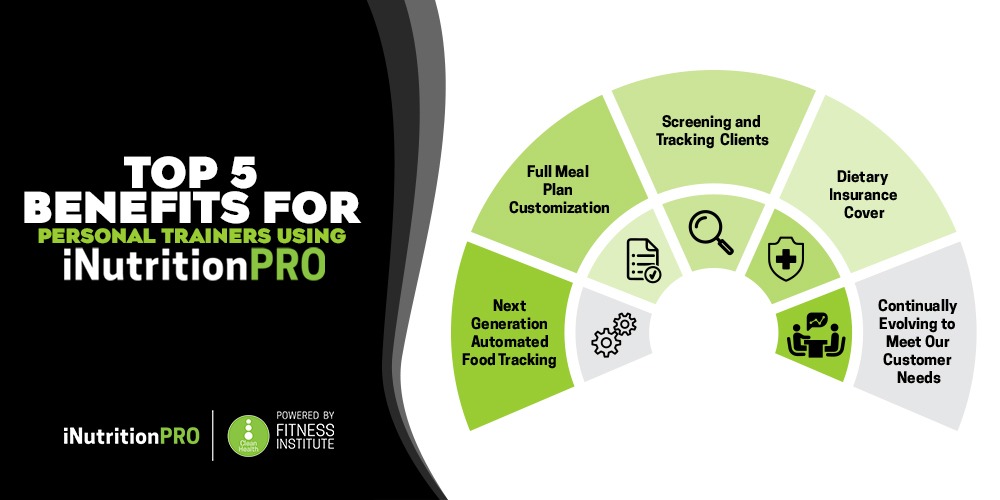 Written by Stefan Ianev (Co-founder of iNutrition Pro & Clean Health Research & Development Specialist)
iNutrition Pro was created back in 2014 at the original Clean Health Performance Centre. Originally, it was only designed to be used in-house, in order to save the hundreds of hours that were being spent writing meal plans for clients by our elite coaches.
It wasn't long before word of this leaked out to our industry-leading colleagues and there was a large demand to make this product commercially available. iNutrition Pro was then officially launched to the public in January 2015.
Since its inception, iNutrition Pro has undergone massive functional and structural changes, as it continues to evolve to meet the ever-increasing demand of our consumer base.
Below is a list of 5 major benefits that personal trainers see by integrating iNutrition Pro into their business.
Next Generation Automated Food Tracking
Most nutrition software products or apps are simply food log trackers. The coach sets the macro targets for the day then the client needs to log in to the app and log everything they eat. This takes a lot of time and can quickly become tedious. As a result, it generally leads to poor compliance or the client feeling like they're forced into eating the exact same foods every day to make it easier.
The iNutrition Pro software on the other hand is a meal plan generator. Once the appropriate meal template has been selected and the client's data has been entered, a complete meal plan is generated within minutes, including foods and portion sizes. If a particular food or recipe is swapped out, the portion sizes are automatically adjusted to fit within the macros for that meal.
So, the client can just follow their meal plan without having to log everything they eat, while still having the flexibility to change their food options.
Full Meal Plan Customization
Some meal planning software products allow the coach to select from several hundred pre-designed, fixed meal plan templates. Usually those templates contain fixed calories, macros, mealtimes, and food options, and the coach still has to put in work beforehand to find something that closely suits the clients requirements.
With the iNutrition Pro software, a fully-customized meal plan can be created in minutes using our sophisticated meal plan generator. The coach simply needs to enter the client's data and select the number of meals for the day, the time of training, the nutrition system or template they wish to use, and set any food preferences and/or restrictions. Every template is also fully customizable down to every detail, and the coach can create and save their own templates for future use.
Plus, if you want to change something, you don't need to go back and scroll through hundreds of fixed meal plan templates.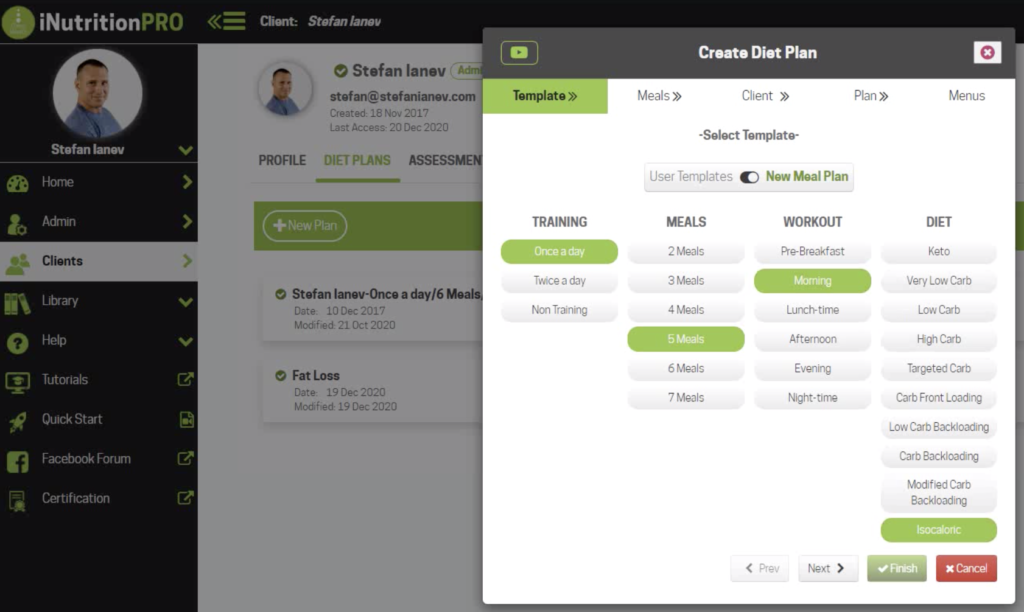 Screening and Tracking Clients
Client screening and tracking is vitally important for a coach because it enables them to:
Risk stratify their clients
Collect as much useful information as possible to assist in designing individualized training and nutrition plans
Monitor client progress and biofeedback markers so that they can adjust their plan as needed
With iNutrition Pro, the coach can instantly send out an online pre-screening form and an online food log when they create a new client. When the client fills out the form and the food log, all their data will be saved in one secure location which can be edited at any time. The iNutrition Pro software also contains weekly client biofeedback and body composition tracking that can be set up to send clients automated reminders to check in.
All client data is then stored in a secure online location that the coach can access at any time, and it shows progress charts to track the client's progress over time.
Dietary Insurance Cover
Most personal trainers aren't qualified or insured to provide nutritional advice outside of very basic dietary guidelines in accordance with the national dietary guidelines. And these basic dietary guidelines have been shown to have extremely poor compliance and low success rate.
Personal trainers that have completed the Clean Health Performance Nutrition Certification are able to obtain full dietary insurance cover for healthy populations if they have an active iNutrition Pro account, and they are taking the necessary measures to screen and monitor their clients. This can save you from having to spend 4 years and tens of thousands of dollars on completing a University degree that would be required to provide specific dietary advice for your clients.
Our insurance policy is currently only available in Australia and New Zealand but will be expanding globally in the coming months. International coaches can register their expression of interest here.

Continually Evolving to Meet Our Customer Needs
Most subscription software services have an average customer lifespan of about 2-3 months. Our average customer stays with us for about 12 months. We even have a large number of industry-leading coaches who have been with us since the very beginning when we first launched back in Jan 2015.
One of the main reasons we feel that our customers stay with us for so long is because we've been very interactive with them from the very beginning, through our Facebook members community. In fact, 90% of the requests and suggestions that we've had from our members have been implemented into the software. This is also why a lot of the members that leave often come back at some point in the future.
iNutrtion Pro is not just another software product. It's a community of industry-leading fitness professionals, all collaborating and engaging to create the ultimate nutrition software platform for the personal trainer.
Click here to sign up for your 4 week FREE trial to dive in & use the entire iNutrition Pro platform without restrictions, for free- for 4 weeks!
Watch the video below to learn more about iNutrition Pro!